ISEBOX Groups allow you to add various Content Pages to a collection that then appear on the Project Landing Page (ProjectName.ISEBOX.net) all together in their group. This is ideal for grouping together Content Pages by year (for events), by region (for global campaigns), or any other way you may want to group them together.

To see a gorgeous example of how groups can be used, check this out.
To set up groups, follow these steps:
Go to your Content Page Settings.
In the General Options section, go to Groups and enter a group name - if other groups already exist, you may choose one of those.
This group will now be available for other ISEBOX Content Pages to be added to.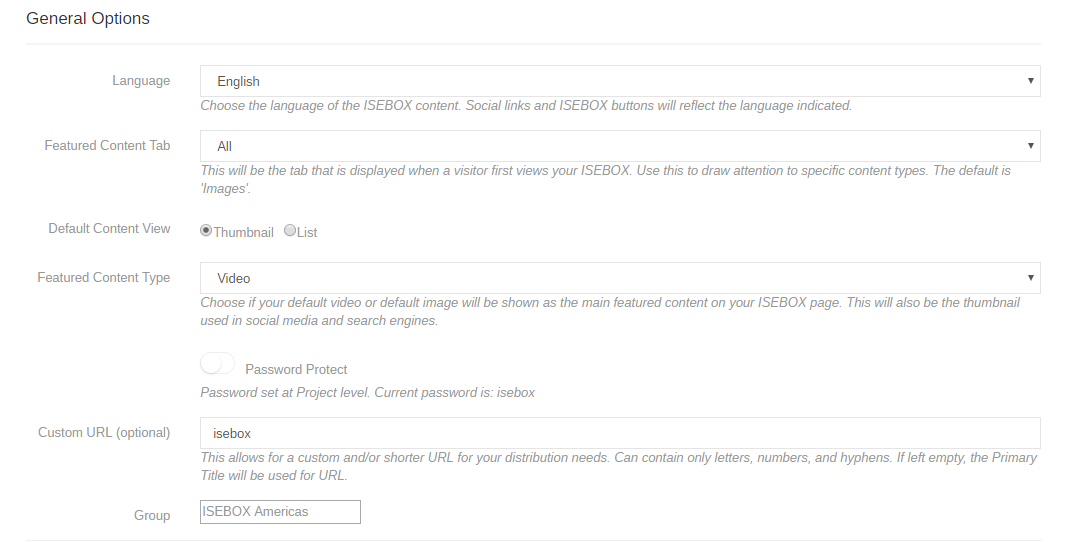 To change the order in which groups appear on your ISEBOX Project Page, follow these steps:
Click on Projects in the Navigation Menu.

Hover on the to-be-edited existing Project and click the gearwheel.

Scroll to the bottom Groups section
Click the up and down arrows to arrange order

After finishing the desired changes, click Save & Exit.

Hint: You will see a green message popping up on top if everything has been done properly.


TIP: If no group is selected for any Content Page, they will appear at the top of the Project Landing Page.